One of my favorite things to do is develop logos and brand identity. The company name "Barrel Aged Books" came to me in a flash from the beginning. Coming up an idea for a logo that was even remotely usable? Way more difficult. My first instinct for the logo was to include the image of a barrel. Naturally, right? After all, the name of the company had the word barrel in it. So, I did a Google image search for the word barrel and printed images that I liked for inspiration.
A friend of mine saw what I was working on and said: "Hey, why don't you just write the name of the company on the barrel itself? So, she grabbed a Sharpie and wrote it out. I actually kind of liked it. Here is what she made:
So, I decided to try and work within that framework. And I tried. And I tried. After dozens of sketches, I wasn't getting anywhere. The best thing I came up with was still worse than what my friend had written with a Sharpie in 5 seconds: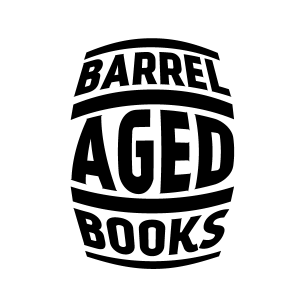 Don't get me wrong. This is a workable logo – with some tweaking I could probably get it to look somewhat slick and professional… but it didn't convey the kind of image I wanted to convey. I wanted to convey handmade. I wanted to convey high quality. I didn't want to convey modern and clever.
So, I decided to bring in some fresh ideas. First, I went back to Google image searches. This time, I tried more specific terms like "barrel logo" and "barrel vector graphic." I also expanded my search to websites like GraphicRiver and ShutterStock. Here are just a few of the interesting results that came up:
This made me realize something: Vintage badges are cool. Maybe I could do something with that? But, I've never designed a vintage or retro badge, so I decided to reach out for some ideas. This lead me to a lovely website called Fiverr. On Fiverr, you can hire creative talent in dozens of areas such as copywriting, graphic design, and programming, to do jobs for you starting at a base price of just $5. Many of the people on Fiverr are in countries with extremely low wages so $5 is a lot to them. Or they are simply working with a set of prefabricated templates, so it doesn't take more than a few minutes to customize it for you. It is a dice roll, though. So, I decided to roll the dice on eight graphic designers who had great looking portfolios.
I sent them all the same information about my business and some "inspiration images" so they had an idea of where I was coming from. Then, I told them to just put in their own unique twist and not follow my own ideas too closely. Let's see the results.
To begin with, I got back a a few pieces that didn't show much effort:
I also got back some cute images, but nothing that really made me go "Wow!" or get inspired to do something with. Special shoutout to graphicgirl1 for her beautiful design – I may eventually try something in that direction:
But, there were some really excellent efforts! I'm not sure how much time was actually put into them, but they were certainly clever and looked pretty nice. This gave me some inspiration to work with. $40 well spent.
In particular, the zikogfx designs were simple enough I could recreate different versions of them and come up with something on my own. So, I created an Illustrator file, downloaded a couple open source fonts and started working on my own designs with plenty of variations:
And finally, after some hard work and effort, I came up with a final design.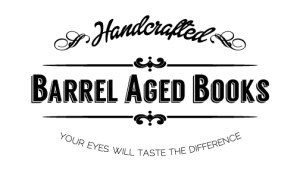 Or is it the final design? Probably not. Right now the website header is slightly different (that logo looks great stamped on the back of a business card but terrible as a website header).
But, for now that works. It is time to focus my time and effort back on designing a great beer tasting notes journal and planning how to turn this into a viable product. Now that I have something I can slap on a business card and look "legit" it is time to start networking and figure out how to raise my startup capital.
Coming up next: Dollars and Sense – How much money do I really need to start this thing, and how am I going to raise it?
P.S. If you think you have a great idea for a Barrel Aged Books logo that you would like to share, please feel free to send me a quick message by filling out the form below. Thanks!